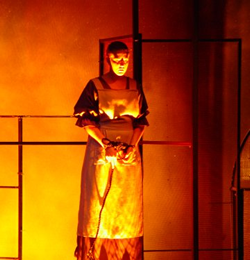 Erika Savage as Lucy at the University of Alaska, Anchorage
Casting: 5W, 3M (This is an ensemble piece with doubling and can accommodate larger casts)
Running Time: 1 hour 45 (2 Acts with intermission)
Synopsis: Somewhere In Between (or) The Ghost of Molly Malone,  tells the fictionalized story of Molly Malone, a brash Dublin fishmonger who struggles against the societal conditions of 17th century Ireland and England and her counterpart, Lois, a sassy young girl experiencing life on the streets of contemporary Chicago. The two stories are woven together by the figure of Old Molly, a spirit guide who spans the centuries seemingly unable to leave her past behind or change her future. The story of young Molly begins with the Cromwell invasions that widow her on her wedding night. From there she goes to London and starts out in a workhouse. It soon becomes apparent, however, that her independent spirit doesn't fit the mold and when her relationship with the boss's nephew deteriorates, Molly finds herself out on the streets. After a brief stint as an actress, the theatres are closed for the plague, and homeless once more, Molly eventually ends up in Bedlam. Meanwhile, Lois, in and out of a shelter in Chicago, gets involved with Brad, a small time porn director.  Like Molly, Lois is not too good at bending to fit the shape of the world, and when she rebels against Brad she ends up in way over her head and is arrested. Both women have lost touch with the ability to communicate and are struggling to find a way to exist between the extremes of societal compliance and flat out rebellion.  Once young Molly dies, it is up to the spirit figure of Old Molly to help Lois learn to "reach out and be reached," and thus find a new hope not only for Lois, but also for herself.
Production History:
Pinter Review Prize for Drama: Silver Medal
Produced at Venue 9, San Francisco, for Women On The Way
Nominated American Theatre Critics Association New Play Award
Finalist KC/ACTF
University Production: University of Anchorage Alaska
Winner Yukon Pacific Playwright Award and Last Frontier Theatre Conference Audience Choice Award
Staged Reading: Last Frontier Theatre Conference.
 What They're Saying:
"A seamless fantasia that is always compelling and often funny"  "Stratford sets up and enormous challenge for herself and succeeds beautifully" – San Francisco Examiner.
"Somewhere in between brilliant and amazing," "Award-winning Between shines" "fresh and thought-provoking" – Anchorage Daily News
"An emotional, fire-breaathing thrill ride" "a wonderful work of theatre" – Art Matters, Anchorage
"A sprawling tale, part Fielding, part Dickens [Somewhere In Between] is a story that moves through all the ages of Woman" – San Francisco Weekly
"Against a canvas of war, persecution, violence and sex, it's a defiant tale of love, friendship, integrity and acceptance" – The Irish Herald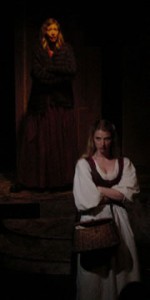 Arwen Anderson and Michaela Greeley as the two Mollies, Venue 9, San Francisco