The Short Version: Aoise Stratford's work has been produced in Canada, Australia, The Philippines, Europe, England, and throughout the USA. She is the recipient of several awards including the Alan Minieri Award, A Pinter Review Prize for Drama Silver Medal, the Yukon Pacific Playwright Award, the Hudson River Classics New Play Award, and The Gloria Ann Peter Playwriting Award. Her short plays have also won her 'best playwright' awards at many theatre festivals. She has been a finalist for the Actors' Theatre of Louisville's Heideman Award and been nominated for an American Theatre Critics' Association New Play Award for her full-length play Somewhere In Between. The Unfortunates won the Susan Glaspell Award, and was selected as part of the Best of Festival series for the 2013 New York International Fringe Festival. She is a member of the Dramatists Guild and serves as their regional representative for Central New York. She has taught writing workshops around the country and her work has been published by Smith and Kraus, JAC Press, United Stages, Dramatists Play Service and others. She has a PhD from Cornell University, where she also teaches and occasionally serves as a dramaturg.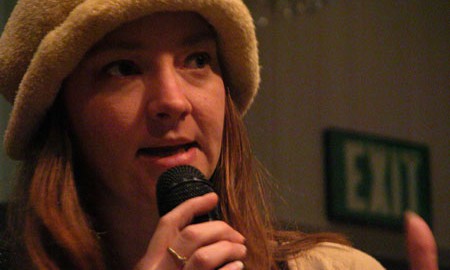 The Whole Story: Aoise Stratford began writing fiction for her own amusement in 1992 and plays in 1997 at the end of a four year BA degree with honors in English and Theatre at the University of NSW in Sydney. She self-produced her first plays at Studio One, the University's black box, in 1998 shortly before receiving a scholarship to do an MFA at The University of San Francisco. While at USF, Stratford studied fiction and published several short stories in literary magazines. Her short story The Long Wait was nominated for submission to the Best New American Voices Anthology. In 2000, she returned to playwriting, submitting her first play to the Last Frontier Theatre Conference in Alaska. There she won an award, met other playwrights, and rekindled her love of theatre. Since then she has had more than 100 productions of her plays throughout the United States, and in Italy, Canada, Belgium, Austria, England, Scotland, The Philippines, and Australia. She has also continued to write fiction and has published several stories and won the Writers Digest prize in Literary Short Fiction for You Know What I Mean.
Stratford has won several national awards for her plays. Somewhere In Between (or) The Ghost of Molly Malone (full-length) has won the Yukon Pacific Playwright Award, a Last Frontier Theatre Conference Audience Choice Award, and a Pinter Review Prize for Drama Silver Medal. It was produced by the University of Anchorage, where the Anchorage Daily News reviewed it as "somewhere in between brilliant and amazing," and it was selected as a KC/ACTF Finalist and nominated for an American Theatre Critics Association New Play Award. Somewhere In Between has also been produced in San Francisco, where the SF Examiner called it "a seamless fantasia, often funny and always compelling." Love And A Wide Moon (full-length) was a finalist for the Nancy Weil New Play Award (2002), received 2nd Place in the Writers Digest Writing Contest (2003), an Honorable Mention for the Eric Bentley New Play Award (2003), and won the Hudson River Classics New Play Contest (2005). It was produced at Prince William Sound Community College in 2007. Henry's Wives (Full Length) has been produced at University of Wyoming and won the Gloria Anne Peter Award for which it received a showcase at the Morgan Opera House in 2007. In 2010 it was produced in Austria by the English Drama Group of Salzburg.
Stratford's most produced full-length play, The Unfortunates, is a one-woman show about the life of Mary Jane Kelly. The Unfortunates received workshops from The Kitchen Theatre and Orlando Shakespeare Theatre where it was a finalist for the Harriet Lake Award. The Unfortunates won the Susan Glaspell Award and received its world premiere at Centenary Stage in 2012 where it was reviewed by NJ Arts Maven as "a jaw-dropping play" and by Morris Beats as "incredibly well-crafted." In 2013 it was produced by Vertical Tastings at the New York International Fringe Festival, where it was a Time Out New York Critics Pick and listed as one of the top ten shows to see by Backstage. It was extended as part of the Best of Fringe and was reviewed as "Haunting and Engrossing" by the New York Times and a "gripping portrayal" by Theatre is Easy. It was produced in London, and then went on to have similarly well-reviewed productions in Chicago (SoloChicago 2016) where the actor, Gail Rastorfer was nominated for a Jeff Award for her portrayal of Mary Jane, and in Buffalo (Red Thread Productions 2016) where it received 3.5 Buffalos.
In 2016 she collaborated with Nick Salvato to write Storm Country for The Cherry Arts. This piece that is part audio melodrama, part local history walking tour, and part site-specific philosophical adaptation of Grace Miller White's Tess of The Storm Country. New full-lengths in development include Oracle, a piece about prophecy, water, astronomy and bingo, best described as magical realism, which most recently had a reading at the Phoenix in San Francisco, and a new full-length "classical" Gothic drama, The Vampyre of The Grotto, which has had workshopped readings at Cornell University and SUNY Plattsburgh.
Stratford's short plays and one-acts have also been widely produced and won multiple awards. Highlights include Will and The Ghost, a one-act written in collaboration with her father, Conal Condren, which has won several awards and had productions throughout the USA and in Australia and Belgium. It was produced as part of the Midtown International Theatre festival in 2008 where Backstage.com said "This one-act may well be the best play of the…festival…These gifted writers really know their Shakespeare." Her ten-minute plays have been produced at The American Globe, the Short and Sweet Festival, Lakeshore Players, Theatre CRAM LA, Independent Actors Theatre, Turtle Shell, Looking Glass, InspiraTO Festival, Estrogenius, Emerging Artists Theatre, ACME Theatre, City Theatre Miami, and others. Awards include an Alan Minieri Award, The Lakeshore Players National Ten Minute Play Contest, Best Playwright Awards from Five And Dime, Lakeshore Players and Turtle Shell, amongst other, and Stratford has twice been a finalist for the Heideman Award. The Closet and Hell Hath Three Furies are published in the Smith and Kraus anthologies The Best Ten Minute Plays (2012), and The Best Ten Minute Plays for Three or More Actors (2005) respectively. Several short plays are published collectively as Elephants and Shakespeare with JAC Press, and The Closet was recently published in Outstanding Short Plays Volume II, from Dramatists Play Service.
Stratford has served as a board member for the Playwrights Center of San Francisco was also a co-founder of Three Wise Monkeys Theatre Company, a not-for-profit company she started with Dawson Moore and Richard Bernier to nurture and showcase new work by San Francisco Bay Area writers. She is a member of the International Center for Women Playwrights and she serves as a regional rep for The Dramatists Guild. She has taught writing workshops and served as a responding dramaturg around the country for KC/ACTF, Curious Theatre, and Last Frontier Theatre Conference.
She has a PhD from Cornell University. Her dissertation looked at the intersection of contemporary feminist and postcolonial plays with the Gothic. She has published several  book reviews in academic journals and is working on two articles.