Casting: 1W
Running Time: 1 Hour 20 minutes, no  intermission
Synopsis: When Mary Jane Kelly seeks refuge in the Ten Bells on a cold foggy night, she's a pound forty behind in her rent, her window is broken, she has lost her key, and she's alone. And it's 1888—not a good time to be poor and "unfortunate" on the streets of London. Somewhere out there in the foggy shadows, one of the world's most notorious criminals is at work. Mary only has two ways to secure her own front door. One of them is prostitution. But when she discovers a lone stranger drinking there, Mary sees an opportunity to sell a stolen scrap of bloody ribbon and she embarks on a delicate but desperate attempt to turn things around. As a legitimate Ripper token, the stolen ribbon is the most valuable thing she has. But can the buyer be trusted? And what will she have to give up to make the sale?
Production History:
Red Thread Productions, Buffalo
SoloChicago, Wit Theatre, Chicago, Jeff Award nomination (Gail Restorer)
Onondaga College, visiting production.
One Fest, The Space, London.
NY Fringe Festival and Best of Fringe. Vertical Tastings
World Premiere, Centenary Stage Company
Winner – Susan Glaspell Award
Morgan Opera House
Winner – Gloria Ann Peter Playwriting Award
Workshop Production, Orlando Shakespeare Theatre
Workshop Production, Kitchen Theatre NY
What They're Saying:
in New York
"Haunting…Engrossing." "The Unfortunates…convinces you" "The merciless narrowing of [Mary's] world is palpable – NY Times
4 Stars, Critics Pick "The Unfortunates achieves a rare combination of pathos and humor" – Time Out New York
A "Gripping Portrayal…an entrancing evening of theatre" – Theatre Is Easy
"A superior example of…a one-person show." "Fringe audiences should be happy to spend Mary's last hours with her." –Theatre for Nerds
Chosen as one of "The Ten Shows to See at the NY Fringe Festival" – Backstage Magazine
 "Aoise Stratford's riveting one-woman play….leaves [you] breathless" "This is definitely not the last we'll hear of this fantastic show"  — McDuffy NYC.
in Chicago
"A captivating portrait…An absolute must-see."  –  Chicago Theatre Review
"Recommended." (Gail Rastorfer Nominated for solo performance) — Jeff Awards
in New Jersey
"A fascinating one-woman play" – NJ Footlights
"It would be truly unfortunate to miss this show… I can't say enough good things about this drama" "incredibly well-crafted…dramatic, funny, dark and enchanting" – Morris Beats
"Superb writing" "Aoise Stratford's jaw-dropping play…is an hour and a half of theater that is not to be missed!"  — NJ Arts Maven
in Buffalo
"A Ripping 80 Minute Tale." (3.5 Buffalos)  – Buffalo Rising
"A chilling tale….Written…with non-judgmental care and for all the right reasons." – Buffalo News."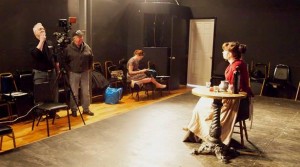 Gail Rastorfer in rehearsal for SoloChicago with Kurt Johns, Ron Keaton, and Meg Elliot