Please note, this page is very much 'in progress' as part of a website overhaul. Only a few plays have been listed in detail, but more will be updated with their production histories soon and new productions are being added regularly. A collection of seven of my short plays, "Shakespeare and Elephants" is available from JAC Press, www.jacpub.com, and both "The Closet" and "Hell Hath Three Furies" have been published in anthologies by Smith & Kraus.
* Elephants and Coffee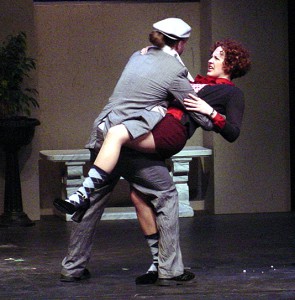 (1W, 1M: ten minute comedy) A lonely woman happens across an elephant as she is on her way to see her therapist. The elephant, being physically clumsy with human things, spills coffee on her and falls in love. She, being emotionally clumsy with natural things, fails to recognize a fellow soul when she sees one. Not willing to take a chance on his offer of romance she leaves, but when she's alone she realizes she may just have passed up the opportunity of a lifetime. After all, love can be found in the most unexpected places.
This play has had more than twenty productions throughout the USA, England and Australia  including at The American Globe, City Theatre Miami, and Independent Actors Theatre. It was a Heideman finalist and has won the Alan Minieri Award, a Last Frontier Theatre Conference Best Short Play Award, and several others. Published by JAC Press.
* The Closet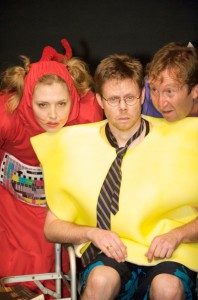 (2M, 1E: ten minute comedy) Bart Sponge, once Kevin's favorite toy, finds himself thrown into a closet under the stairs by Kevin's dad. There he meets a toy dinosaur, Bernard, and another toy he can't even really identify. It's up to Bernard to explain to Bart Sponge why he's there and help him come to terms with the chances a supposedly gay toy has of ever making it out of the closet.
Produced at City Theatre in Miami, The Producers Club in Manhattan, Short and Sweet Festival in Sydney, Louisiana University, and Wing Space New York. It was a semi-finalist for the Heideman Award and has been published by Smith and Kraus in their 2012: Best Ten Minute Plays Anthology. Now available also from Dramatists Play Service in Outstanding Plays Volume II.
* Turtle Beach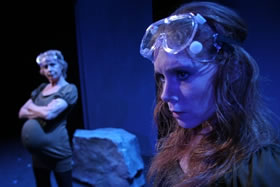 (2W: ten minute comedy/drama) Two turtles make the dangerous ocean crossing back to the beach of their birth in order to lay their eggs. For naive May, the beach is a place of mystical beauty and wonder. For Beverly, older and wiser, the dangers lurking are real and the obligation to get May birthed and back in the water is a serious one. As their two ideas of motherhood collide, hard lessons must be learned, but hope for a species on the brink can also be rekindled  by the magic of Turtle Beach.
This play's most recent production was at Cornell University. Prior to that, it was done at the University of Kansas, and it has had numerous productions at theatres throughout the USA and in Canada, Australia, and England including the Short and Sweet Festival, Knutford Players in London, the InspiraTO festival in Toronto, and the Estrogenius Festival in New York. It is the winner of several awards, including the Claire Donaldson Playwriting Award.
* Hell Hath Three Furies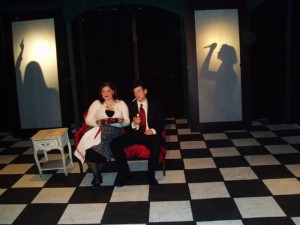 (3W, 1M: 15 minute comedy) Set on a couch in hell some time in eternity–or about 1955–this noir-comedy full of puns and genre gags tells the story of Mac, a man being tormented for his role in the deaths of his wife, his mistress, and his therapist.
Most recently short-listed for the Daily Inferno Short Play Festival, Hell Hath Three Furies has been widely produced including at Glenbrook Players, Gaslight Theatre, Three Roses, Looking Glass Theatre, Wing Space, The New York Fifteen Minute Play Festival (where it received a number of awards) and at several High School and University campuses around the country. It is published by Smith & Kraus as one of the best ten minute plays of 2010.
* The Sculpture Gallery
(2W, 1M: 10 minute drama). This play explores the lines between subject and object. In an art gallery, a young artist is sketching a life-like exhibit of sculptures of women for an assignment when a man several years her senior strikes up a dangerous conversation with her.
This play was first developed at ATHE in 2015. Over the next year it was a finalist for Lakeshore Players and went on to have productions in Manilla (Short and Sweet) Saskatoon (Hardly Arts) Sydney (Short and Sweet) Massachusetts (Exit 7) Toronto (InspiraTO) and Ithaca (Kitchen Theatre).
* Skulls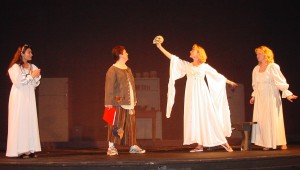 (3W, 2M: ten minute comedy) Yorick kidnaps an audience waiting to see Cymbeline and with no help at all from Ophelia, Juliet and Lady Macbeth, subjects them to "The Jester's Tale" a revisionist history of Hamlet that reveals the circumstances of his murder at Elsinore and his slighted position in theatrical history.
This play was part of the West Coast Players One Act Festival in the summer of 2014. Skulls has won a couple of awards and had a couple of readings and workshops, including at The Old Opera House, featured here, but the West Coast One Acts was its official world premiere.
* Strike
(1W, 1M: ten minute comedy) When two characters written into the same play meet on stage they think at first there has been a mistake. After all, they have nothing in common. Terry wants to follow the script for a romantic comedy, Terri doesn't believe in romance, or scripts, and can't believe she's stuck with someone who does. But as they argue, they discover their differences are similarities after all, and fate and chance may in fact be the same thing.
This play has been produced by Wolfsmouth, Stagecrafters, Stone Soup Theatre Festival, and Fort Point Theatre, Independent Actors Theatre, and most recently at the Short and Sweet Festival in Sydney. Published by JAC Press
 Other Shorts include….
* Along The Watchtower (6M, 2W: 20 minute one act comedy)
* Our Lady of The Sea (3M: ten minute drama)
* Subject (1M, 1W: ten minute comedy/drama)
* Ophelia's Hamlet (2W, 5M: fifteen minute comedy)
* Dead In The Water:  A Play Noir for Three Hams (2W, 1M: ten minute comedy)
* The Things She Kept (3W, ten minute drama)
* Monologue For Lady Macbeth (2W, 2M: ten minute drama)
* At Delphi (2W: ten minute drama)