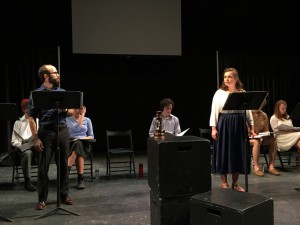 Casting: Smallest Cast is 3W, 4M with doubling. There are a total of 5 roles for Women, and 6 roles for men.
Running Time: Just under 90 minutes, no intermission.
About the play: The Vampyre of the Grotto is a classic Gothic drama for a a contemporary audience. It takes its inspiration from J.R. Planche's 1820 melodrama, The Vampire or The Bride of the Isles (which was itself an adaptation and amalgamation of a French drama and of Polidori's famous short story, the Vampyre). Rarely staged today, Gothic dramas were notoriously hybridic, parodic, and self-referential, borrowing from other texts and walking a tonally uncomfortable line between social political commentary, formal parody, and terrifying spectacle. As such, The Vampyre of The Grotto pays homage to the settings, devices, themes, language, motifs and structural conventions typical of Gothic dramas of that period, and uses them to explore questions of gender, sexuality, and power through a story better shaped for today's theatres and audiences.
History: This play was developed at Cornell University, where it was presented as a staged reading for three performances in Spring 2015. It was workshopped further during a week-long residency at SUNY Plattsburgh in Fall 2016, culminating in a staged reading. Stay tuned for details of a workshop in 2017.